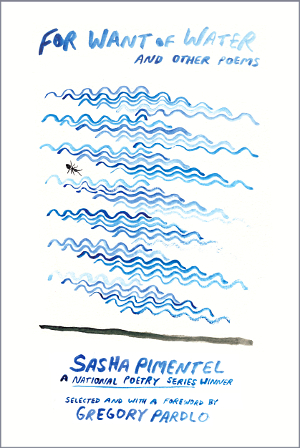 Winner of the 2016 National Poetry Series, selected by judge Gregory Pardlo.
Winner of the 2017 Helen C. Smith Memorial Award.
2018 PEN America Open Book Award semifinalist.
From the foreword:
"'These are not words of asking,' writes Sasha Pimentel in the poem 'Orison.' Rather, this is 'a divining / of intersections'—an apt description of her virtuosic second poetry collection. . . . Some borders are so powerful that they radiate a culture of violence just to enforce the illusion that the border is real. A border with the power of life and death, like the one between the United States and Mexico, might insist that those who survive crossing it are less human on one side than on the other. How does a poet respond to a landscape burdened with such brutal imagination?"
— Gregory Pardlo, winner of the Pulitzer Prize in Poetry

Searing verses set on the Mexican border about war and addiction, love and sexual violence, grief and loss, from an American Book Award–winning author.
El Paso is one of the safest cities in the United States, while across the river, Ciudad Juárez, México suffers a history of femicides and a horrific drug war. Witnessing this, a Filipina's life unravels as she tries to love an addict, the murders growing just a city—but the breadth of a country—away. This collection weaves the personal with recent history, the domestic with the tragic, asking how much "a body will hold," reaching from the border to the poet's own Philippines. These poems thirst in the desert, want for water, searching the brutal and tender territories between bodies, families, and nations.
Beacon Press, 2017.
ISBN-10: 0807027855
ISBN-13: 978-0807027851
Sources from For Want of Water: And Other Poems
Click here for a list of articles that inspired the poems.
Click here for Sasha's sources on the El Paso, TX Ciudad Juárez, MX-CH region.
Learn about the National Poetry Series.
Praise for For Want of Water
"Rising from the heat of the Mexican-American border, Filipina-American [Pimentel] . . . .draws a line between the mirror cities of El Paso and Ciudad Juárez, while the poet's native Philippines looms in the background. These poems are marked by troubled love and ambivalence, particularly in regard to violence: "We say it's the last, we say just one more./ We say the war we're not responsible. We say// we won't. Then we pull roses, petals leaking/ thread, red blossoming their glass tombs." Such complicated feelings are not for Juárez alone. In El Paso, "Women and men rumble the distance,/ the television on but politely muted, walls/ glaring with the passing of the unnamed dead." Through Pimentel's gaze, readers are encouraged to see the body as a conflicted space of both tenderness and disaster. She excels at crafting a gorgeous language that drapes around the coarseness of the world; poems that confront . . . . are suffused with an almost erotic sensuality. Even the cataloguing of mundane moments (dancing lessons, a Thai massage, air travel) explodes the everyday into a remarkably sumptuous landscape. The thirst to find benevolence inside brutality, just as one thirsts for oases in the desert, runs through these pages."
— Publishers Weekly
"Accomplished poet that she is, Pimentel does not offer reportage but leaps from a beginning poem, 'If I Die in Juárez' ('The violins in our home are emptied / of sound') to meditations on male violence, female vulnerability, and desert-driven thirst that touch fiercely. . . . Affecting and well wrought; Pimentel is a poet to watch."
— Library Journal
"Pimentel has mastered the gift of courage . . . . This is a terrifyingly brilliant book.
— Washington Independent Review of Books

"For Want of Water is a hot book: life in the desert, desire laid bare. "We are learning how to lie down quietly / each afternoon, to let // whimpers fall over us, through / the air, and through // our skin, to forget our wet mouths, their hungry gestures." A great book doesn't need two narratives, but there's a parallel current of pain in this book. "The wives in Juárez are used / to slumping their bellies to their knees." This grief is thick: "The violins in our home are emptied / of sound, strings stilled, missing / fingers." Love and struggle, lust and pain, all here under the same poetic roof."
— The Millions
 
"Sasha Pimentel writes evocatively of our irksome obsession—the Mexican border as riddled, tempestuous demarcation between faith and melancholy, expectation and despondency, shadow and glow. El Paso and Ciudad Juárez cling to opposite sides of a hellish boundary—and the poet crafts an existence emboldened by that fracture, trumpeting the triumphs and hazards of a love that defies its ragged edict. No other poet has dared this landscape with such a deft and intrepid touch, conjuring an expansive, revelatory and indispensable read. Nothing—nothing—in these pages has been done before."
— Patricia Smith
"The poetry. . . . is visceral, haunting, searing. This is a poet who sees what most of us would rather not see. . . . In language of fierce compassion and tenderness, Pimentel humanizes the dehumanized. And oh, how we need such poems."
— Martín Espada
"In For Want of Water, Sasha Pimentel threads the complex and intricate geographies of lives across borders: Wyoming, Montparnasse, Saudi Arabia, Ilocos, Manila; but primarily El Paso and Ciudad Juárez in Mexico, where there have been more than 48,000 documented fatalities and more than 5,000 disappeared in relation to the drug trade. With unstinting eye, Pimentel gathers in this book the disembodied, the lost and unhomed, the migrants at the border; the ones holding meth in their palms like "crystal glittering," the ones in the throes of withdrawal; border officials building electric walls, prisoners made to take off their clothes, the dead who have been machine-gunned at drug rehabilitation centers. In poems lit with premonition. . . . [a]s in the story of the boy who winds up dragging his dehydrated mother's body across the desert, what Pimentel enacts in these harrowing but beautiful poems is the persistence of longing—how even in our most separate, divided, complicit, guarded existences, we'll push toward that uneven line, that verge at the horizon where clouds promise to deliver rain like an absolution. The crossings Pimentel speaks of are perilous, but I am glad to have her as guide, because she has the capacity for finding the smallest lights in the incinerated cities, shining through glass or the throats of pipes."
— Luisa A. Igloria